A recent study by comparethemarket.com has shown that the number of vegans in the UK has soared to around 3.5 million people — that means that 7% of the UK population have gone plant-based.
With some giving it the green light for health benefits, is the diet worth the health hype? We decided to challenge some of our meat-eating ambassadors to take on a plant-based diet for a week as a part of World Vegan Month to see if it's as simple as ditching meat and dairy, or if there's a little bit more to it than that.
One of the lucky few was personal trainer and biochemist-in-training Emily Muir, or @emmuirfit to her Insta followers. This girl's got brains and brawn, regularly taking on some incredibly heavy lifting, as well as a degree in Biochemistry.
Taking after her mother, an extremely competitive functional fitness competitor, Emily lives for all things fitness. This girl loves to challenge herself – having taken on her personal training qualification, a part-time job and her degree all at once, so a week of vegan should be a walk in the park, right?
Here's what happened when Emily took on the vegan challenge…
My normal habits:
I normally train 4-6 times a week ranging from cardio based sessions to yoga and olympic lifting. I normally have a protein shake after I train out of convenience, however I am quite fluid with my training times so if I can train then have a main meal after, then I'll do this instead.
My diet is normally very meat heavy, so I don't normally need additional protein. I really struggle with making my meals exciting as I am a really terrible cook. I just don't find much enjoyment from cooking, so I tend to cook my meals in bulk. This is really useful in terms of organisation and preparation, but meals can get very repetitive.
Why I went Vegan:
My main motivation behind trying a week of vegan was the effect eating animal products has on the environment. We're in a potentially dire situation in terms of global warming and a vegan diet could be one of the ways to slow down climate change.
Animal farming adds a tremendous strain on the environment due to deforestation and methane production, and also requires a lot more water than crops.
Here's a little detail on what she ate and how she felt over the 7 days: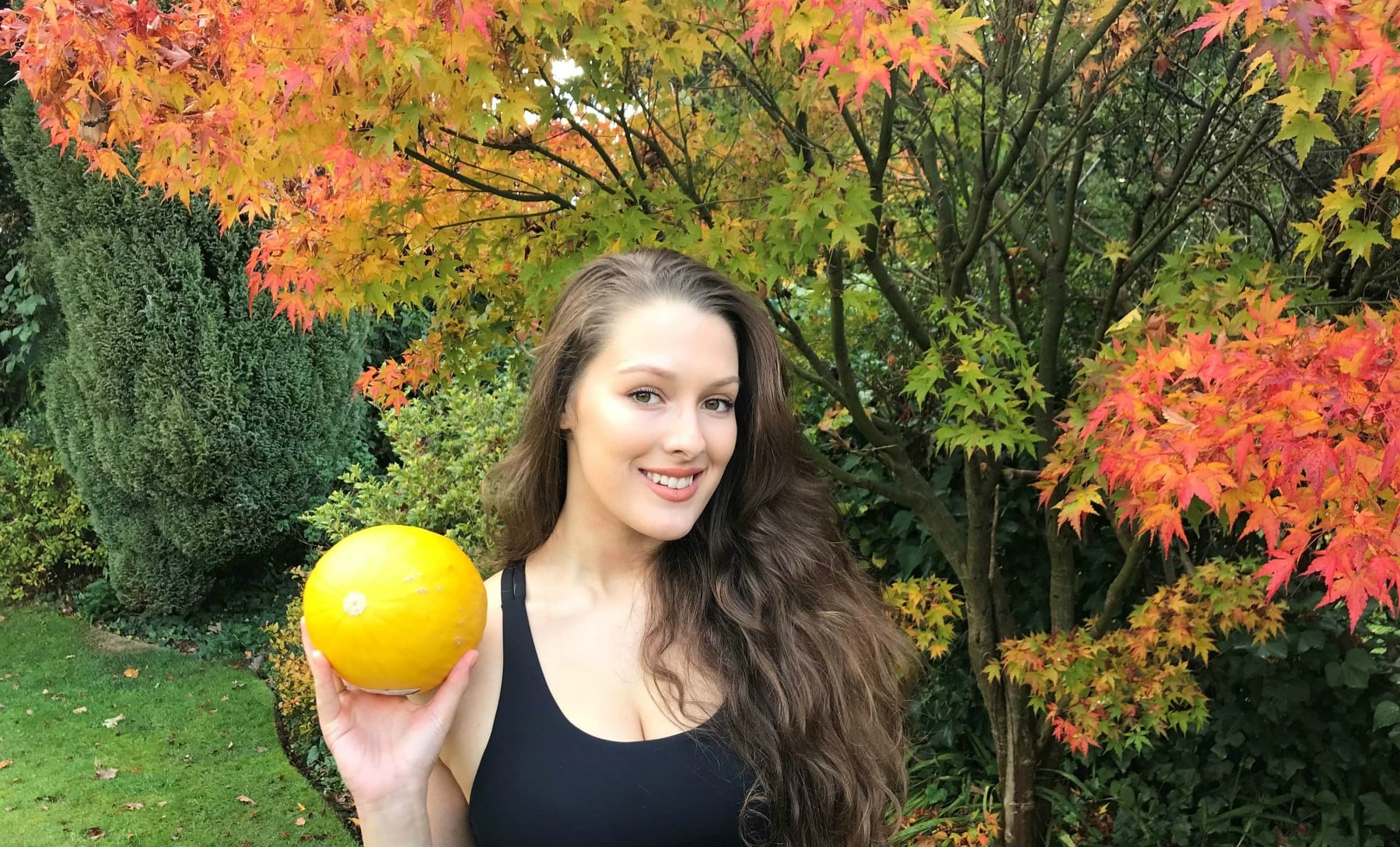 Day 1:
"It was a bit strange not having meat in my meals because they're are normally centred around it. I ate instant apple and blackcurrant porridge for breakfast to keep it simple. For lunch, I had pasta – apart from the lack of meat, nothing too strange. For a snack I had a handful of almonds and a protein shake before enjoying a vegan chilli for dinner."
You can see from day 1 that being vegan doesn't have to mean sourcing awkward foods – Emily's shown that you can still enjoy all your favourite meals with a little substituting – apart from a juicy steak, sorry…
Day 2:
"Today I had serious chocolate cravings which the Vegan Bar helped with immensely! I started off today with some granola – again, a nice and simple breakfast option. For lunch I dug into some falafels with cucumber and hummus.  The afternoon is when I was in need of some chocolate, so I had a Vegan Bar in Chocolate Orange flavour – yum! Also snacked on a protein shake before I finished off the day with a beetroot burger, baked sweet potato and rocket salad."
This is a pretty delicious day of food if you ask us! For someone who says they're not into cooking, that beetroot burger sounds pretty adventurous. Chickpeas in falafels and hummus are a great vegan and gluten-free option for getting in your protein and fibre.
If you'd like to make something similar, you can check out our Bangin' Beetroot Burger Recipe for some inspiration.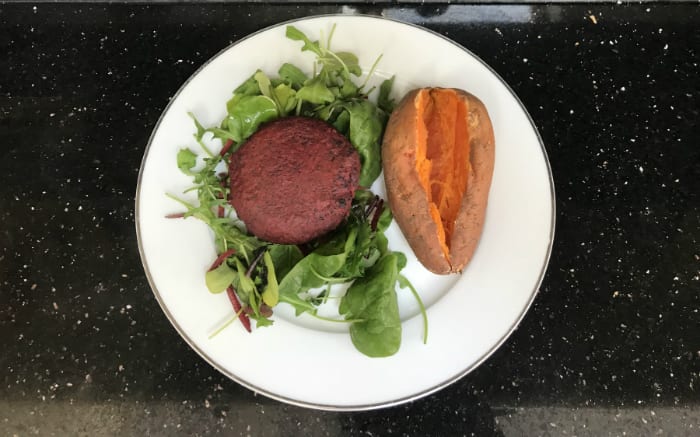 Day 3:
"This was probably the easiest day in my week of vegan as there were meat substitutes with every meal, so I didn't really notice the difference. I had porridge again for breakfast, then "vegan chicken" fillet for lunch with some white basmati rice, carrots and broccoli. I snacked on a handful of raspberries, had a protein shake and then had tofu with my noodles in the evening."
We like Emily's choice of breakfast – oats are a great source of omega-3, fibre, and even protein. It's also a low-sugar and slow release of energy, meaning you should feel fuller for longer. So, no need to a mid-morning snack sesh.
Day 4:
"I started to find things quite hard today with being restricted but a chocolate bar definitely helped. I had granola for breakfast again, followed by pasta and then cucumber with hummus. For my snack I had a Chocolate Orange Vegan Bar and then a beetroot burger, sweet potato and rocket for dinner again, plus a protein shake."
Emily's incorporated a Vegan Protein Shake every day to up her protein intake. When you're as active as she is, you need to make sure that your muscles are getting the nutrients they need to stay strong – a protein shake is a convenient way to do this. Check out our Vegan Range for more plant-based supplements you can try.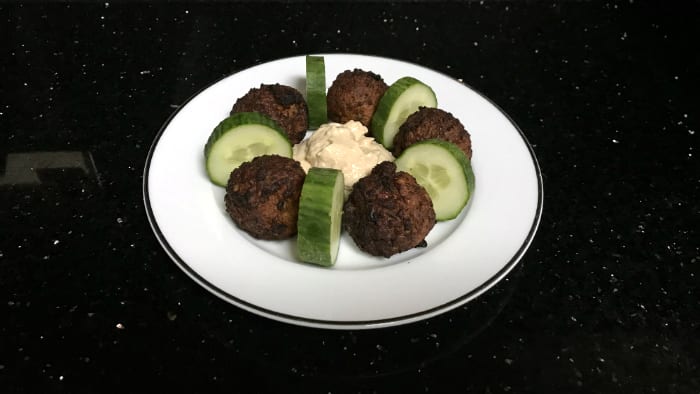 Day 5:
"It was still hard today but I'm committed to completing the week. I had normal granola for breakfast, followed by chilli for lunch and then blueberries for a snack. For dinner I had tofu noodles, plus a protein shake."
It can be hard to motivate yourself to cook something different every night, especially when you've got to think hard about where you're getting the right nutrients from, like on a vegan diet. It's often easiest to substitute your meat protein for something like tofu or Quorn.
Day 6:
"Started the day with protein pancakes which were really nice and filling. It was a nice change from having such simple breakfasts. I had pasta for lunch, almonds for a snack and chilli for dinner, followed by a protein shake."
She's nearly there! See below for what Emily included in all her main meals for some plant-based inspo…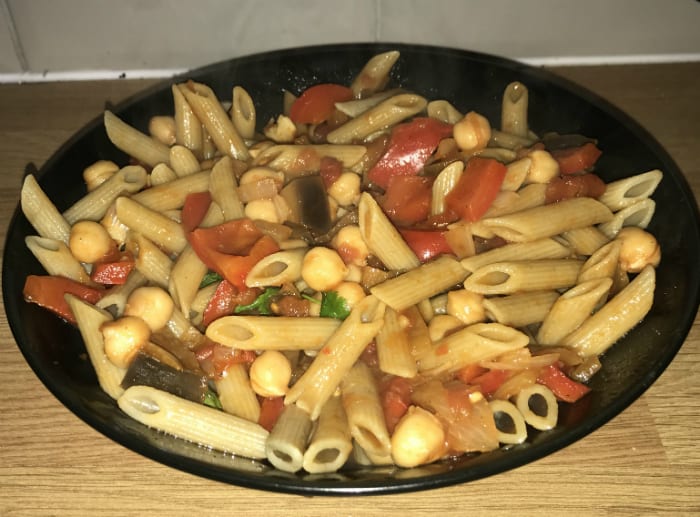 Day 7:
I enjoyed the quorn again and I have definitely found this week challenging, but worthwhile. I had chilli again for lunch, raspberries for a snack, and then a "vegan chicken" fillet with broccoli and carrots, not forgetting the daily protein shake."
She made it! We're all guilty of being repetitive with our meals when trying to meet our macros, but Emily's meals turned out pretty creative and fitted her lifestyle, which is what matters the most. We're very impressed she made it a whole week, switching her diet so dramatically.
Food breakdown:
Here's a little bit more information about what Emily's meals were made up of, so if you fancy giving the challenge a go yourself, you can sub in some of her favourite meals.
Chilli: sweet potato, onion, carrots, celery, garlic, red pepper, tomatoes, black beans, kidney beans
Pasta: wholegrain pasta, tomatoes, chickpeas, aubergine, red pepper, coriander
Tofu noodles: yellow pepper, red pepper, garlic, ginger, peanuts, tofu, soy sauce, noodles
Protein pancakes: flour, protein powder, water, maple syrup, baking powder
What I learnt and what I'll be doing going forward:
"It wasn't actually hard to hit my protein goals at all! I thought that I would really struggle to get enough protein daily but with a protein shake and meat substitutes with one of my meals, it was really easy.
The vegan meat substitute was actually very tasty and high in protein, so it made life a lot easier for me as I normally like having some kind of meat to go with all the vegetables. Due to being such a terrible cook, being vegan was actually quite helpful as the chances of undercooking something and giving myself food poisoning was significantly reduced!
It also made things easier to take food to work and university for lunch as I didn't have to worry about heating it up thoroughly which definitely came in handy with such a busy schedule. As the food is all plant-based, it lasted a lot longer with some of the vegan burgers lasting 3 weeks, which is good so you can limit how many food shops you do.
I did find it tough to go from being able to eat everything to being restricted from various food groups. I would definitely like to be completely vegan one day but I think that I will have to try and do it in a way that makes it sustainable. I am going to spend the next few months becoming vegetarian."
Take Home Message
Seems like Emily learnt a lot about herself as well as the food she eats. It's always difficult to make such an extreme change to your lifestyle so suddenly, so Emily's got it spot on with working towards being vegetarian as her long-term goal. It's good to see that it wasn't a totally negative experience (despite some struggles) and that she'll be giving green a go more often than before.
Fancy giving a week of vegan a go yourself? Check out our 7-day vegan meal plan for a deliciously easy way to eat green for a week.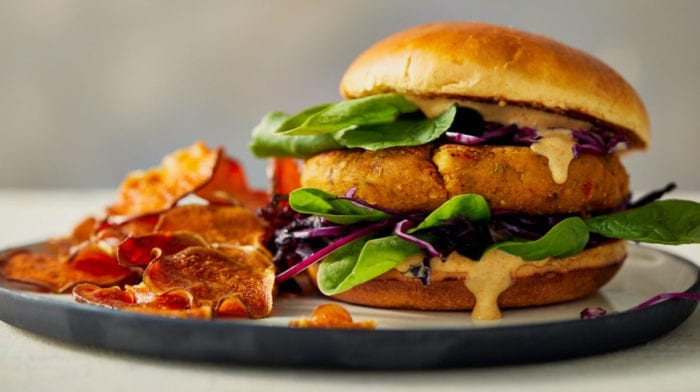 Delicious recipes to fuel you through a plant-based week.
See how Jack and Maggie got on when they went vegan for a week.