What Is Cacao Powder?
Cacao is a superfood that we can all appreciate. It comes from the Theobroma Cacao tree. In its powder form, cacao features in many health food products, from protein powders and spreads to snack bars.
Cacao refers to the whole beans, or in their powder form when it has not been heated during its processing. The heating part of the process is what rids it of some of its nutritional value.
If you're here for gym and weight-related gains, look no further: cacao is a top source of energy and a valuable aid in combating fatigue – not to mention it can help you to cut fat.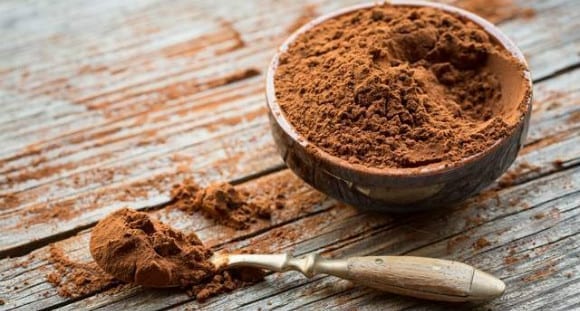 Cacao Powder Benefits
When used in hot chocolate, cacao is not the unhealthy part that you would otherwise be advised to avoid. Usually, it is the added flavouring and sweeteners that tip it towards 'unhealthy' in the balance of all things health and fitness.
The health benefits of cacao are pretty staggering in its unprocessed form.
Amazing Antioxidant
When it comes to superfoods we all know the major pros of blueberries, but cacao actually has forty times the antioxidants of blueberries. Antioxidants prohibit and sometimes prevent the oxidation of molecules in your body. They remove potentially health-risky oxidising agents. They do this, and in doing so provide you with a plethora of benefits, such as healthy skin, by cleaning up all the waste from your cells before they can cause any damage.
These waste products are called 'free radicals'. Cacao has an ORAC score of 98,000 per 100g, while blueberries have 2,400. An ORAC score measures antioxidants' ability to absorb free radicals.
The high antioxidant content can help to increase cellular life and prevent premature aging.
Top Source Of Magnesium
Raw cacao is an amazing source of magnesium, which is essential for energy production as well as the functioning of your brain and nervous system. It also supports your muscles, strong bones, teeth and healthy blood pressure.
Magnesium helps to turn glucose into energy for your brain to focus – that's why if you're studying, working or training at the end of a long day, you might consider reaching for something that contains cacao powder.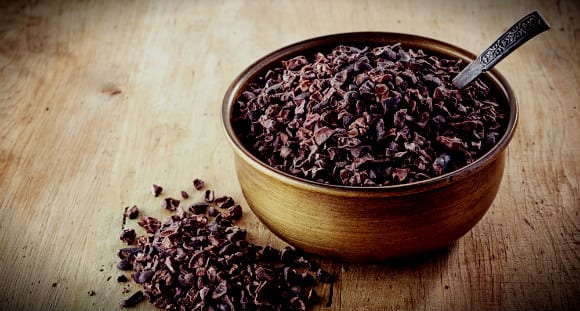 Full Of Iron
Iron can be harder to come by for vegans, but cacao could be the answer you are looking for. Cacao is, in fact, the highest plant-based source of iron, featuring 7.3mg per 100g. If you thought you were missing out on iron by not being carnivorous, think again: beef and lamb feature only 2.5mg of iron per 100mg, and spinach has only 3.6mg. Because the iron in cacao is non-heme, you will benefit most from it by consuming it alongside some vitamin C.
High Calcium Content
Cacao powder is a great source of calcium, which is good for your teeth and bones among other things. In fact, it has more than cow's milk, with a whopping 160mg per 100g while milk has 125mg per 100ml.
Good For Those Moods
Cacao is also a proven source of serotonin, tyrosine, tryptophan and phenylethylamine, which are neurotransmitters that are linked with feeling good and happy. Cases of low mood are often linked to a deficiency of these chemicals.
This not only helps for good moods but can also shrink your appetite and help you to shed fat.
Top Uses Of Cacao Powder
Because cacao powder brings you all the aforementioned benefits in a more accessible form, its variety of uses is just about endless. Here are just a few of our top suggestions: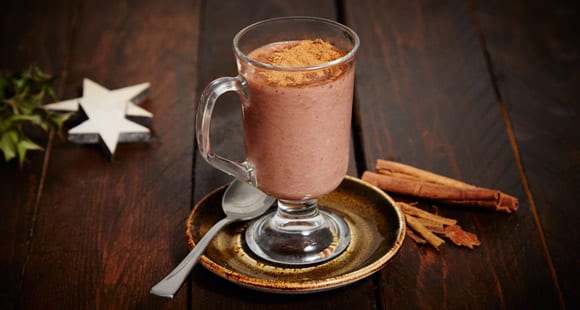 Healthy Smoothie
Utilise cacao's energising properties to give you a boost when you need it most: during or after a hard workout. Combine it with vitamin C by adding oranges, and blueberries to get a mighty hit of antioxidants.
Bake It In A Brownie
Add cacao powder to a recipe for a chocolate brownie that leaves you feeling less guilty as well as gluten-free (not to mention vegan and paleo).
Healthy Hot Chocolate
Drink it cold, for that matter. Take a tablespoon of cacao powder and a pan of plant-based milk and choose a healthy sweetener of your choice from agave, maple or yacon syrup or coconut sugar. On a hot day let it cool in the fridge and drink it cold, but avoid cow-based milk, which has been known to block the absorption of calcium in cacao.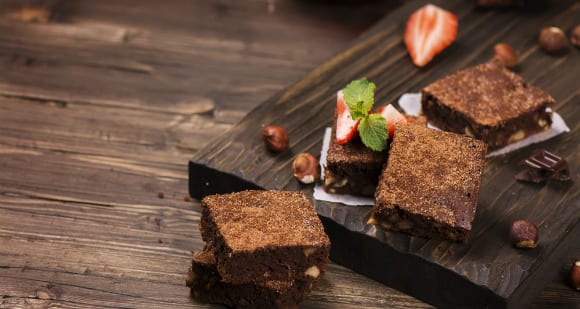 Cacao Spice Rub
Give your beef a kick by adding cacao powder mixed with sea salt, paprika, black pepper, cumin, thyme and coconut crystals.
Apply it to Your Skin
It's not just for eating. Cacao is the ultimate moisturizer when applied as a body butter.