---
Following the recent claim regarding a 'foreign object' in one of Myprotein's products,  the Manchester Evening News has apologised and accepted that the allegations about Myprotein are in fact false. Quality is everything to us, as it means everything to you.  Thank you for your continued support, and please share this update to correct those who need to be set right.
The full apology can be read below:
---
Apology issued by Manchester Evening News:
On 11 April 2017 we published a claim by a user of Myprotein's protein shake powder that he had found a dead mouse in a packet of it, with the implication being that the mouse had found its way into the powder during the production process, and that he believed his health had been put at risk.
Independent investigations have proven that the mouse could not have entered the powder during the production process and this is consistent with the statement issued by Myprotein on their Facebook and Twitter pages on 14 April 2017.
We accept that the allegations about Myprotein are untrue and we apologise to them."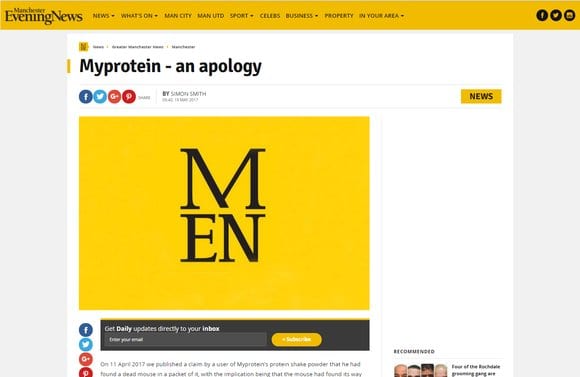 ---
The pathology report, completed by 'Ecolab Pest Elimination' confirmed that the foreign object was not present when leaving Myprotein's production facility. Our process includes industry leading food safety equipment, including X-ray machines which detect and reject 100% of products containing foreign items as small as 2.5mm.  Due to this industry-leading approach, it is mandatory that we assure our customers that our production facility is Double-A grade certified by the British Retail Consortium Global Standard for Food Safety and is committed to continued quality improvement.

Our articles should be used for informational and educational purposes only and are not intended to be taken as medical advice. If you're concerned, consult a health professional before taking dietary supplements or introducing any major changes to your diet.